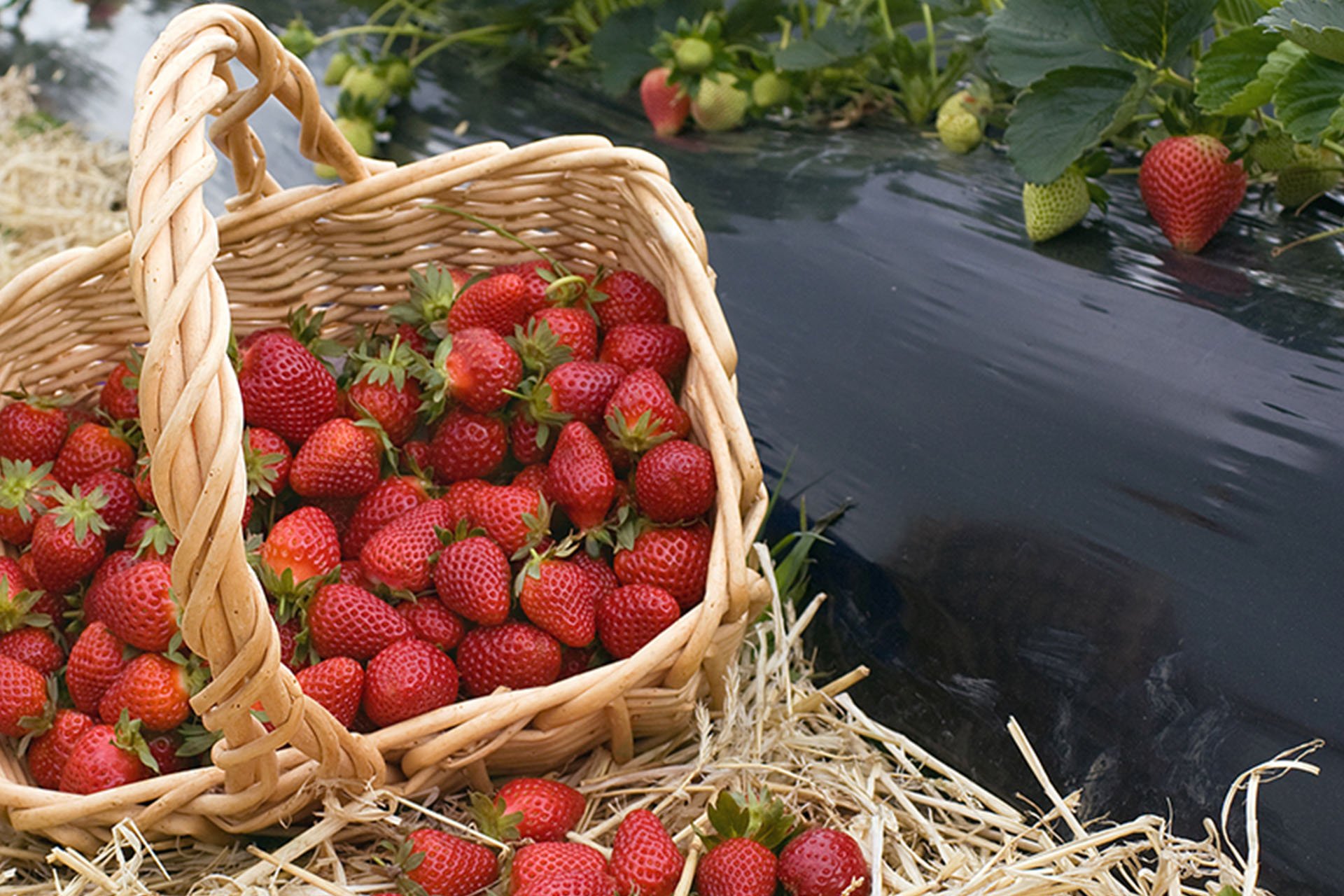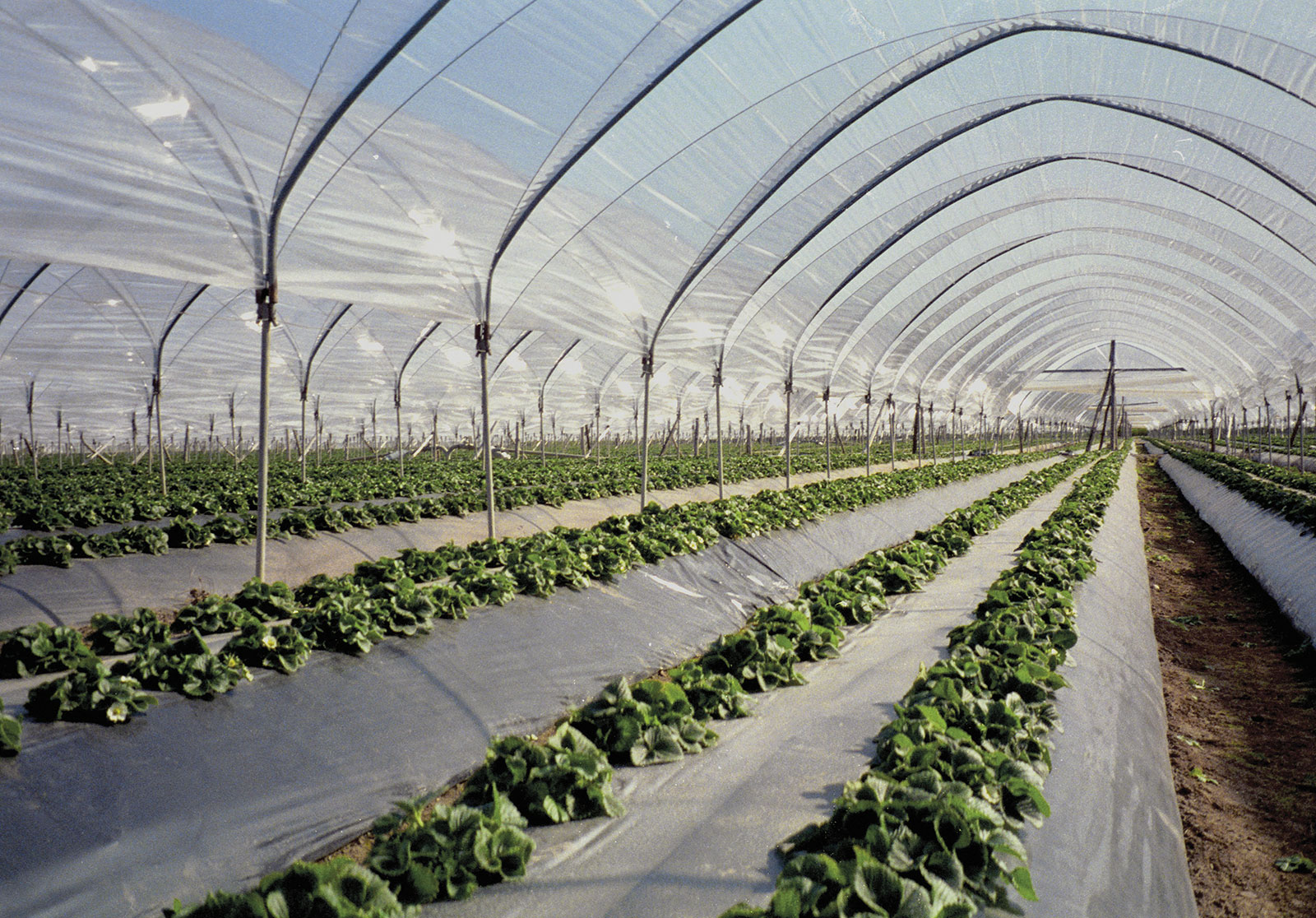 Description
Standard films for agriculture
The hothouse film is a special material, capable to absorb and change a certain quantity of light/ optical radiation, to stimulate and accelerate the growth of plants, to create a protective barrier from adverse weather conditions. The range of modern agricultural films is wide enough.
STANDART – Universality at a good price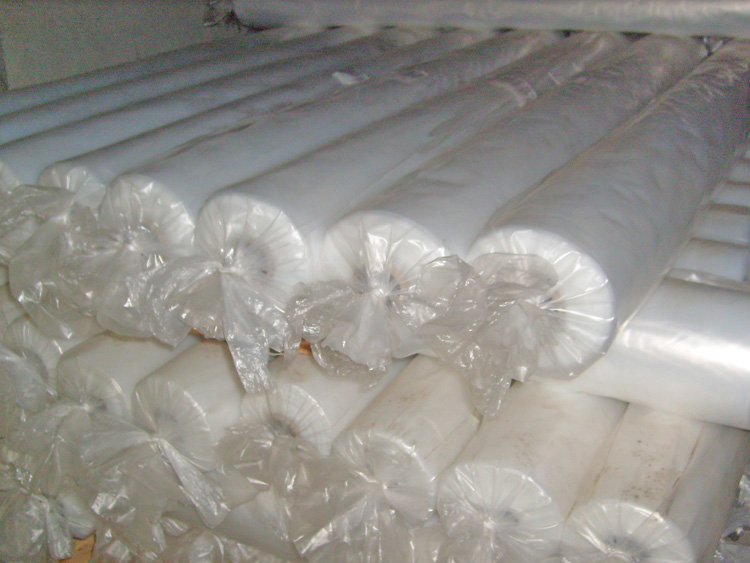 The SANIN TRADE company produces STANDART hothouse films which: possess a complex of properties, provide reliable protection against aggressive environmental manifestations, possess elasticity, lightness and durability. STANDART hothouse films are made of primary raw materials – high-density polyethylene, which doesn't contain any other additives. The principal indicators of the STANDART film quality is durability and a guaranteed operation life within 3-5 months.
Technical characteristics of the STANDART film:
| | |
| --- | --- |
| Width, m | Thickness, µm |
| 1,5 | 40-120 |
| 4,0 | 100-120 |
| 3,0 | 100-120 |
TRISAN – the more layers, the higher the durability
Trisan films consist of three layers and are made of high-quality primary raw materials, without using special additives. They possess an enhanced durability, and a guaranteed operation life not less than 9 months.
| | |
| --- | --- |
| Width, m | Thickness, µm |
| 3,0 | 80,100 |
Specialized films for agriculture.
RASADA – the guarantee of future profit.

RASADA hothouse films are intended for cultivation of seedlings and are adapted specially for it. RASADA is 25 % stronger than the usual film, that is why its operation life guarantee is at least one year, which allows its usage during 2 seasons. Due to special additives RASADA doesn't let the heat go, so it saves up to 15 % of fuel and at the same time protects plants from sharp temperature falls. Besides that, the peculiarity of hothouse films is the stimulation and the acceleration of seedling growth with 1-2 weeks. In addition it increases the efficiency of seedlings cultivation with 30 %-60 %. The special additives, which are contained in the structure of hothouse films, create "the antifog" effect , which protecta the plants from burns and illnesses. In a hothouse covered with a RASADA film there are created the necessary conditons for prevention of the development of elements, which cause various diseases. Due to their unique properties, the RASADA hothouse films, were noted by the Academy of Sciences of Moldova and got into the top 10 valuable innovations of hte year 2008.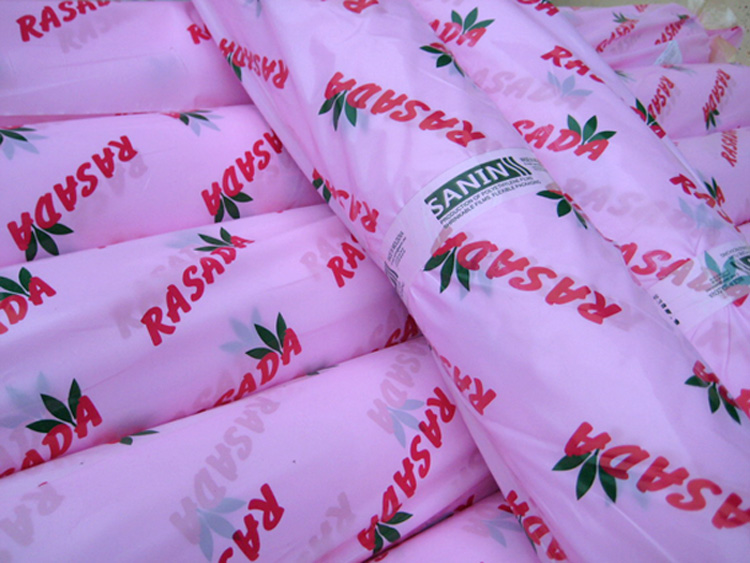 Technical characteristics of light-equalizing RASADA films:
| | |
| --- | --- |
| Width, m | Thickness, µm |
| 3,0 | 100 |
ROADA – always a rich harvest

The production technology of the three-layered composition of ROADA films increases the strength characteristics by 25 %, therefore the operation life is at least three years. Light-equalizers, in turn, slow down the light and thermochemical film aging, and, as a result, impart it with high elasticity and frost resistance. Special additives protect plants from temperature falls, normalize the quality and the quantity of light in the hothouse, create "the antifog" effect, which protects plants from diseases and burns. ROADA hothouse films are: comfortable conditions for the ripening of plants, increase of the nutritive value of fruits and considerable decrease of virus diseases probability.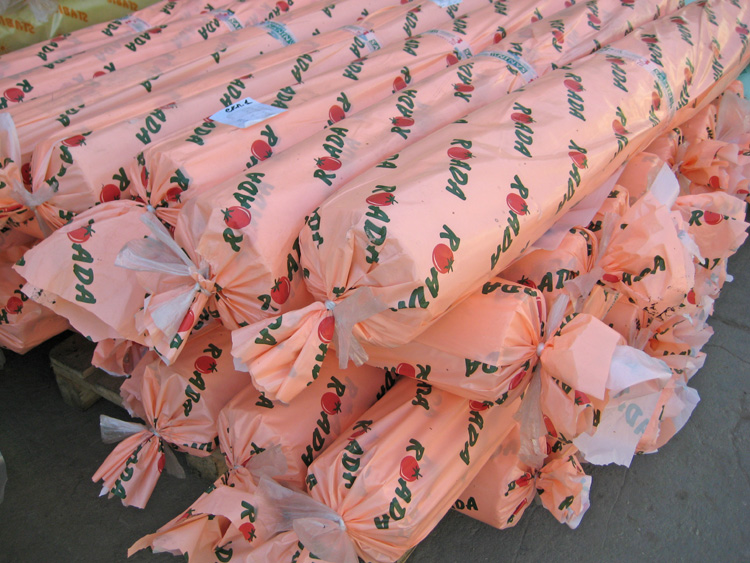 Technical characteristics of ROADA light-equalizing films:

| | |
| --- | --- |
| Width, m | Thickness, µm |
| 3,0 | 100-120 |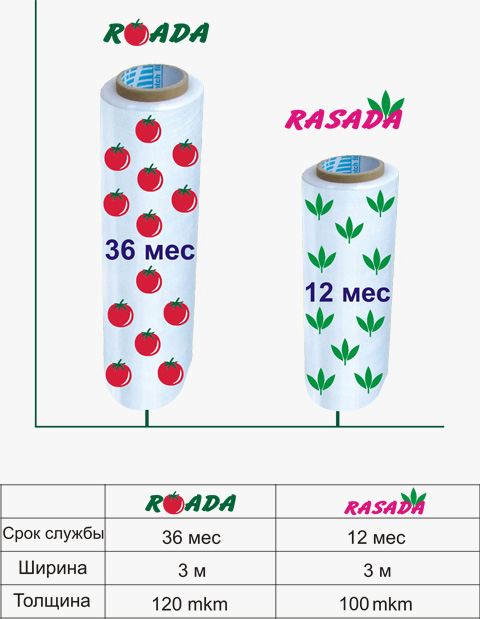 Light-equalized films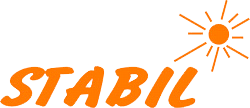 Using an original developed technology, the SANIN TRADE company produces STABIL and SuperSTABIL films, whose lifetime guarantee is 1 and 3 years  and operation life is 3 and 5 years consequently.

The peculiarities of these hothouse films are: is transparency and elasticity, water and vapour resistance, resistance to ultra-violet beams, heat retention, ecological safety.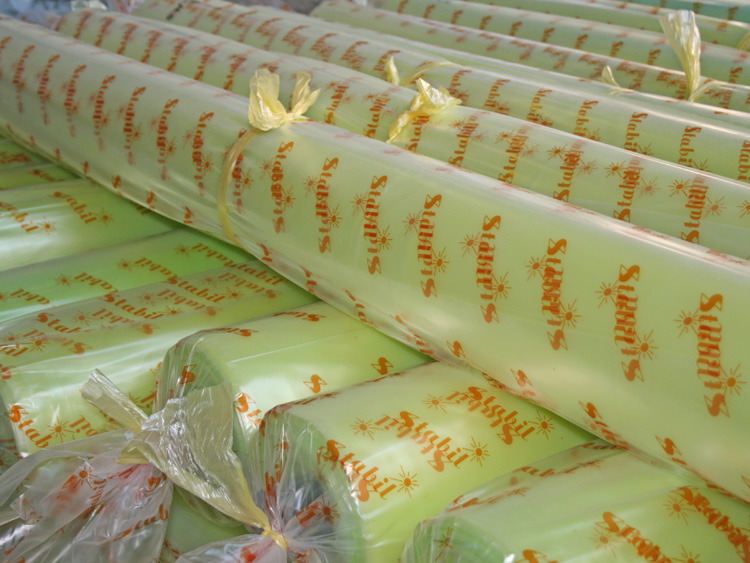 Technical characteristics of STABIL and SuperSTABIL:
| | |
| --- | --- |
| Width, m | Thickness, µm |
| 3,0 | 120 |
| 6,0 | 120 |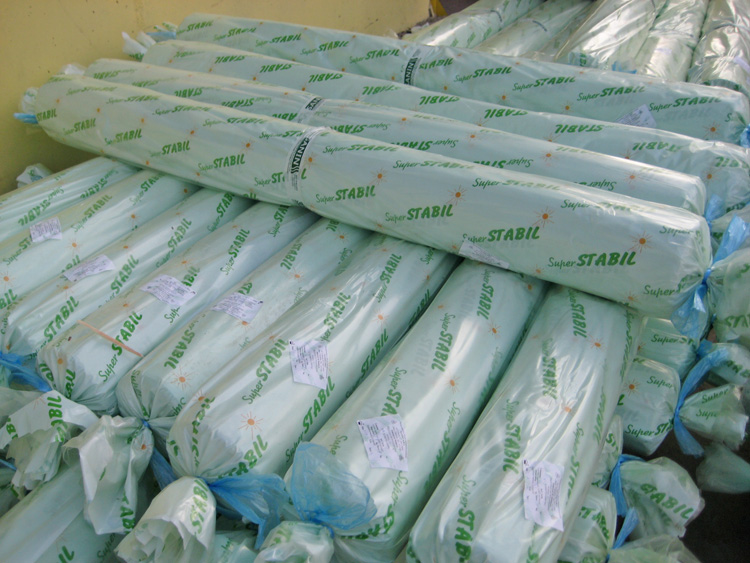 SANIN light-equalizing films are applied exclusively in agriculture for covering the hothouses. Each film is accompanied by an annotation, a passport and a seal «quality guaranteed».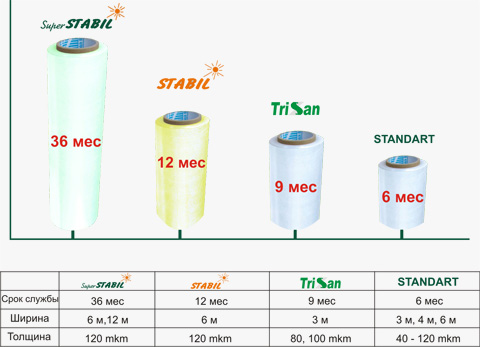 Films for mulching
Mulching  is the improvement of physical conditions and the increase of soil fertility by covering its surface under plants. Mulching allows to increase or decrease soil temperature, to decrease the water loss level, to eliminate the soil crust, to improve the plant alimentation, to exterminate weeds. For the last 50 years in the world practice, the black polyethylene films have become the most widespread as mulch. The SANIN TRADE films for mulching are almost impermeable to vapours and water, don't impede the interchange of oxygen and carbonic dioxide between soil and air, are chemically inert and consequently harmless.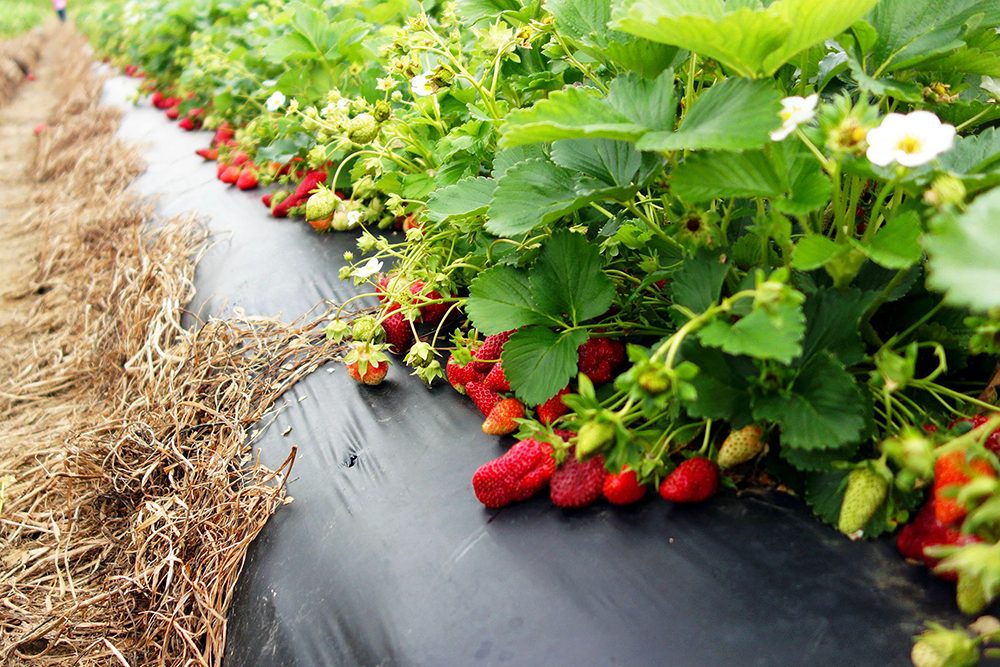 Characteristics of SANIN films for mulching:
thickness: 40-50 µm;
width: 700-1400 mm;
the quantity of orifices and the distance between them is coordinated with the customer;
small punching is coordinated with the customer;
operation life: 1-3 years.
In the developed foreign countries film mulching became an usual technique for cultivation of various  cultures both in opened and in protected soil.
Films for sterilization, covering and dampproofing
Films for sterilization and fumigation are used for the purpose of avoiding of methylbromide and other chemicals' leak from soil into the atmosphere. Methylbromide is used for sterilization against illnesses and harmful viruses or bacteria, which can decrease soil fertility. Chemicals are used for protection of plants against illnesses and influence of insects, at storage in warehouses.
Characteristics of SANIN TRADE films for sterilization and fumigation:
Thickness: for sterilization: 100-200 µm, for fumigation: 200-250 µm
Width: up to 6 meters
Good weldability and low gas permeability
Films for covering silo pits are characterized by: hightened durability, dilation and resistance to ruptures, reduced gas permeability. Their application improves the forage quality at the expense of temperature decrease and improvement of the fermentation quality.
The dampproofinf films are used in construction for the formation of water- and dampproof barriers for thermal protection of external walls, in order to meliorate and to cover the bottom of water bodies.